This summer is going to be busy for me. I'm excited and nervous.
This Thursday, June 30th is the "Beauty and the Beast" art show at Optic Nerve on NE Alberta St which should be amazing! There are some really incredible artists hanging work in this small space, it will totally be worth elbowing your way through the 'Last Thursday' bullshit to get there.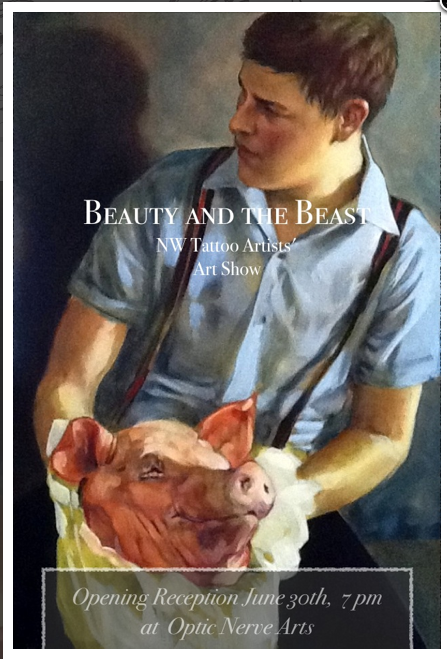 Im waiting to hear back as to weather I can sneak in a piece or two before the start hanging work up, Its my own fault for waiting so long to submit work. I was going to then chickened out earlier in the spring, I then suddenly grew a pair after being encouraged by a fellow tattooer.
Friday, July 1st 8:00pm - 11:30pm There is a benefit art show for 'Carlos the dog' at 'Side Door' in SE Portland. I haven't had the heart to ask for the details of the story, but something awful happened to this little guy and his people need help with the vet bills. Im going to have a few really small, affordable pieces hanging there so go buy them, Its a benefit after all.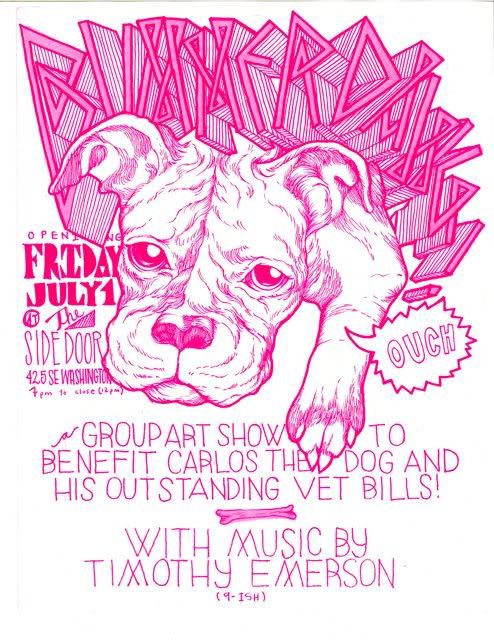 Sunday July 3rd, 4-7pm is some drawing thing at 'The Lovecraft' down in SE Portland. Its the first event there of its kind so I'm going to go down and check it out if I can, its right in the middle of my workday though, so I dunno if I'm really going to make it.
Friday July 8th is the Closing reception for the Dennis Dread's 'Cut & Pasted, Burned & Wasted' show and Im stoked on that! I want to go back in and get a few good photos before they break it down, its way wicked awesome.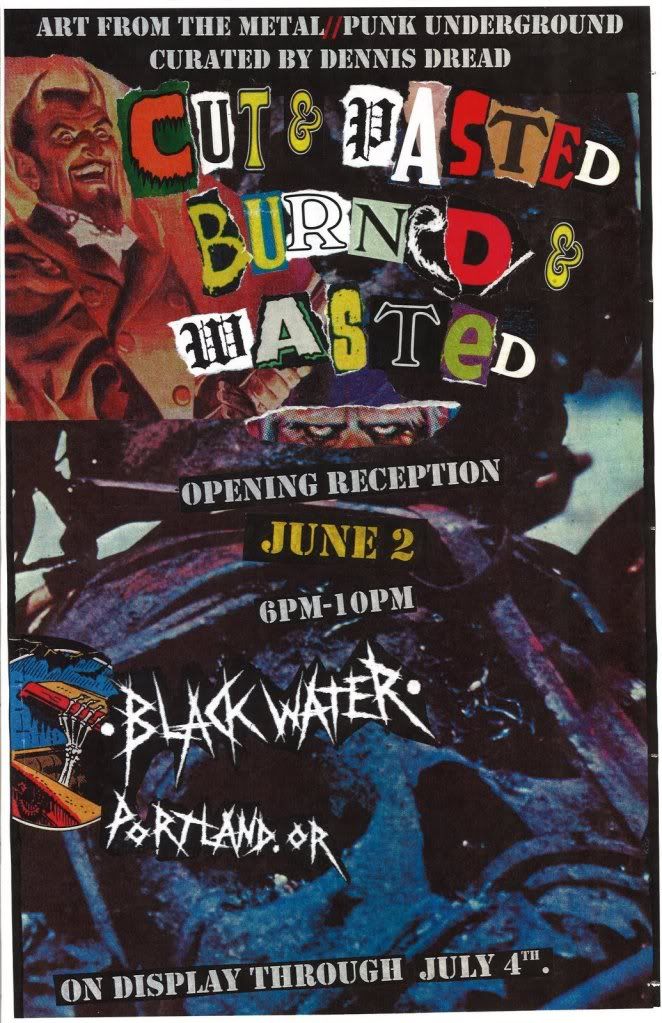 Friday, July 29th is the opening for my 2nd annual solo show at 'The Know' on NE Alberta. I'm waiting on final confirmation on the three bands playing the reception then Ill have fliers out for that. It should be a really good time, most of the artwork is band or music related and everything is brand new - never been displayed anywhere before. If I can get my finances figured out in time, Ill have prints available for sale at the opening and throughout the show.
Ill leave it at that for now.