What a funny week its been. My husband's band left for their Mexico tour, so Ive really had a chance to get lost in work.
The Stumptown Comics Fest was last weekend, I unfortunately had to be at the tattoo shop, so I missed out on that.
I did make it to the 'Dark Horse Presents' launch party, ate a few cupcakes and had a free beer, realized i was in a comic book store with a wad of cash in my pocket and promptly had to leave in order to prevent some misappropriation of the electric bill money.
I signed a new agreement with Paxton Gate for BoneFetish. They will be carrying my bone jewelry for the summer at their Portland location on Mississippi St. Thats awesome.
Also trying to keep up with commissions, NOT working on that oil painting I promised myself I would have finished by now. Though considering all that Ive managed to accomplish this week, Im not going to be too hard on myself.
last night was the Dr Sketchy's Comics edition, I had a blast drawing the two models dressed as 'The Wasp' and 'Black Widow'.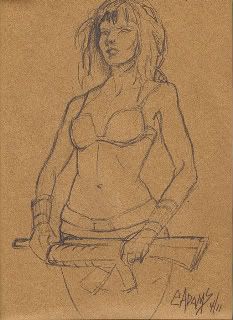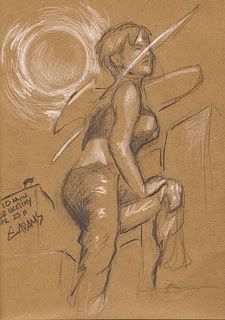 The very nice gentleman sitting next to me for the evening was super generous with his suspiciously vast wealth of drawing knowledge. Grateful as I was, I didnt think much of it at the time, since I had seen him at previous Shetchys and had actually gotten a great tip on a figure drawing book from him earlier this year.
We spent the breaks between models chatting about whatever came up, spiders, carpel tunnel, comics, long pose figure drawing, the ruins of his family castle in germany, tattoos. Turns out he is related to a rather famous tattoo machine maker Dan Dringenberg, the name sounded WICKED familiar so I grabbed a pencil so I could look it up later, he was impressed I spelled it correctly and I told him I knew I knew the name and I would feel like such a dummy as soon as I was looking at something...
Eventually one of the other regulars, another guy I had spoken to about comics in the past, came up and asked to see what we had been drawing, so I finally peeked over to check out his sketch pad and I definitely shit my pants a little.
It was Mike muthafukkin Dringenberg.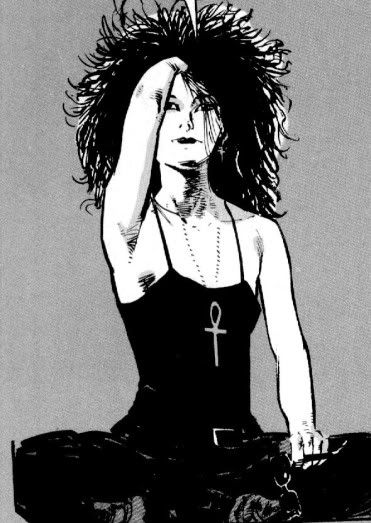 Four hours sitting next to the guy and talking about art and I totally didn't put it together, then, it took me about two seconds looking at his drawings to figure out why the name was so SO familiar... Its on half of the books I own.
Dummy.