I suck at keeping up with the internet. August was amazing here at the tattoo shop, but I didnt get much artwork done. My inlaws came out to visit and I tattooed my mother in law and that was a f*&%in trip.
Husband was not pleased.
I havent been to figure drawing since June, that sucks because it really makes my life so much easier when I have the sharp eye and confidence that I get from doing that every week. I did go to Dr Sketchey's last month though and that was fun, I got a couple ok drawings out of that one.
The on illustration I have been working on was supposed to be hanging up at the 'Dia De Los Muertos' group show at The Screaming Sky Gallery' here on Alberta st in Portland, but alas I missed the deadline due to this sweeeet Alice in Wonderland sleeve I started working on. I figured everyone would be doing sugar skulls and Catrinas with skull faces so I did a little research ( very little) into the pre-Spanish aspect of it. Its actually a really cool holiday and I can definitely see myself coming back to the ideas I came up with. Maybe next year though.
Here is a progress shot. Its pretty much finished, except I forgot her face paint when I was rendering her face, so now Ive got to go back and add that in.
Watercolor and colored pencil. Ill 'prolly add the face paint in colored pencil or acrylic.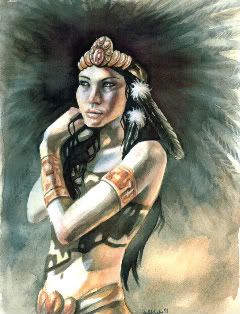 More soon.